The Essence of Time
Stories of time and time travel have fascinated entire populations across the globe for centuries and continue to occupy significant mind share even today. Countless theories have come up with regards to time travel but none have been proved so far. Every year, movie industries across the world churn out science fiction movies revolving around time or time travel with a popular one called "In Time" even using time as currency with the wealthy essentially being immortal.
As much as time travel and predictions of future remain out of the grasp of reality, one segment where that can be achieved with significant accuracy is stock market. People are in constant search of a future value calculator, future value of stock calculator, future value of stock with dividends calculator or future stock price formula. We at fairvalue-calculator.com aim to provide you with just that.
Back To The Future - Investor Edition
In our previous article, we had covered the discovery of value shares i.e. one which told you their present value. The aim of this article is now to help you determine future value of shares. Don't worry, there won't be any fancy jargon like compound interest, risk, compounding/compounded nor would you have to go through numerous related articles etc. You don't even have to contact anyone or enter personal details like savings account details or personal finance information.
At fairvalue-calculator.com, we aim to be Dr. Brown to your Marty McFly, providing you with your own DeLorean to travel ahead and calculate the future value, thus allowing you to invest in the present irrespective of the rate of return, interest rate, growth rate, number of years or any other such parameter. In fact, you can plan for retirement as well and we shall help you manage your portfolio in a way that you not only gain capital appreciation which is compounded but can also provision for monthly cash or even annually if you choose to see fit after several years down the line.
To the DeLorean!!!
To those that have not read the previous article on finding value stocks, we strongly urge you to do so as what we are doing here is a shortened version of the same exercise but this time with a futuristic outlook towards business. We are not looking at short periods but at longer periods moving into years.
Finding value requires a firm grasp of fundamentals and finding forward value of your investment is almost the same. You look at the current situation (financial and business) and try to make an estimated projection of just the general market direction. We will take care of the number, calculators/calculation, principal, balance, asset and other stuff so that you can get on with what suits you best: investing your money & managing your deposit/investments.
Even Time Travelers need insurance
Making money by looking into the future sounds appealing but anything can happen in the present and insurance is now as basic a necessity as food or shelter. What started as a way for seafaring merchants to ensure compensation of loss for ships lost to bad weather is now an all pervasive force that covers everything from your cellphone device to Jennifer Lopez's buttocks.
Investors lost their invested money in insurance company investments during the pandemic as the businesses had to pay out for the sudden loss of health, lives and consequent losses of homes, livelihoods etc. This has reduced interest in insurance shares and while the initial investment in such investments is low, investors interest was missing. Sectors like these get beat down across the board affecting businesses that are not directly affected and that is where our investment opportunities lie.
Title is everything
Insurance companies work mostly on annual premium payments. That is true for life & life related insurances like accident, health as well as general insurance payments like automobile, theft, fire etc. Some insurances are project specific however and one such insurance is Title insurance.
A title in a real estate is a document signifying ownership rights of a property. Issues would often crop up with a title with regards to back taxes, pending loans, conflicting wills and other inheritance issues. This would often leave either the buyer of the house or the lender who lent money to the buyer in a lurch with no protection. This led to the emergence of title insurance companies which operate predominantly in the United States of America and Canada but are also available in developed nations around the world.
Title in the pandemic
A lot of people died unexpectedly during the pandemic leaving behind issues with real estate inheritance. Also a lot of people suffered from these title issues as they fought prolonged and stretched out legal battles just to clear out the titles of their properties.
This segment was unaffected during the pandemic as such because title disputes are generally not dependent on disasters like the pandemic but the stocks of businesses offering these were beaten down nonetheless as the sector took a beating.
Scanning for the investment treasure
At fairvalue-calculator.com, the home screen itself will corroborate your hypothesis if its true or prove it wrong if it is false.

The sector analysis broad outlook tells you that financial services are currently undervalued. We then dig deeper into the sector itself which is what we have done in the screenshot below.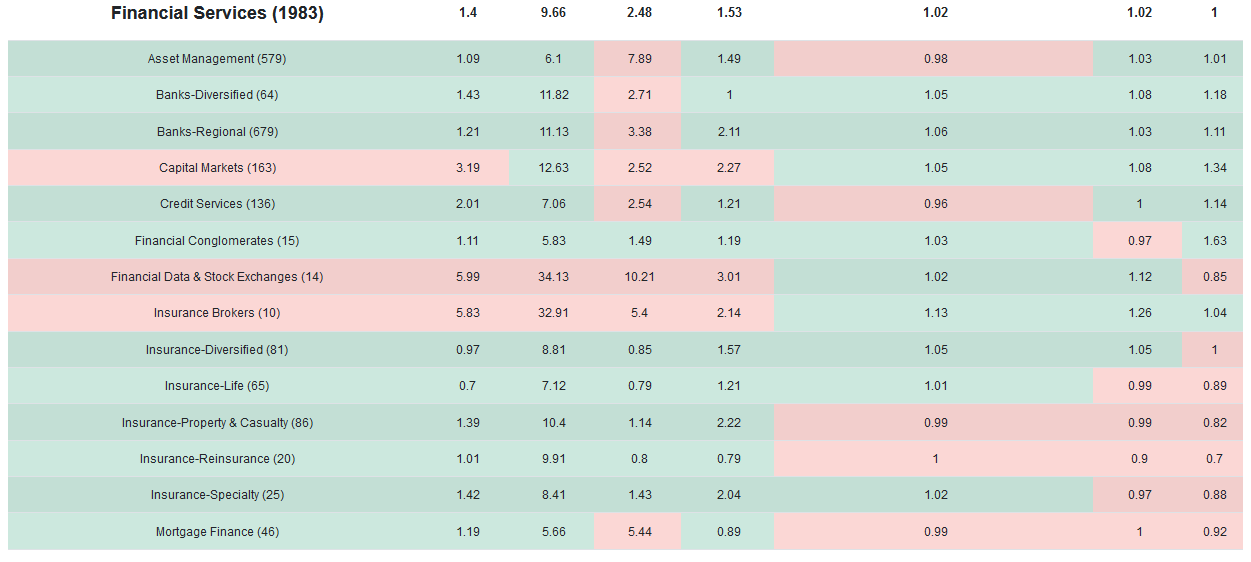 The insurance segments, especially the specialty one are undervalued. The next step is to now look at the market leaders of this title insurance section that we are focusing on.
The Winner of the Market Leader Title: Fidelity National Financial
Fidelity is a leading provider of title insurance and related services. One can download their investor presentation which gives additional information on brands, market share and future outlook. This will be important as that is what we shall be using to calculate future value across periods not only for this but in various companies of the stock market as well.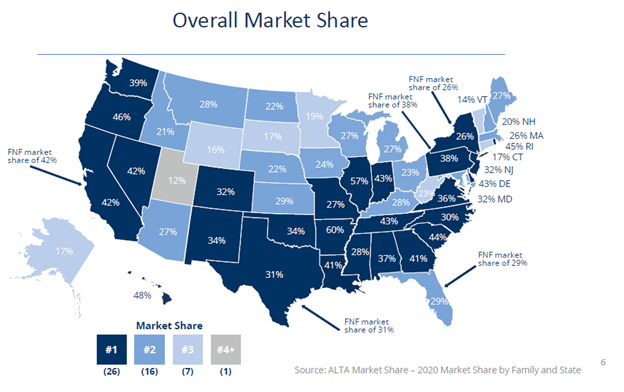 Their revenue is proof of their market share leadership with amazing growth rate across number of years. The revenue growth can be easily spotted on fairvalue-calculator.com

Their revenues are the strongest so far with immense potential to deliver a high rate of return. To check for profit growth rate, especially in the recent period, we look at margins as well.

Margins are also improving which means on an average the company has managed to improve profitability.
Calculate the future value
Now calculating the future value is as simple as looking at the P/S and P/E ratio of the company, comparing it with industry, projecting it to industry average along with conservative revenue growth and voila, the future is in your hands. Lets do the same for Fidelity.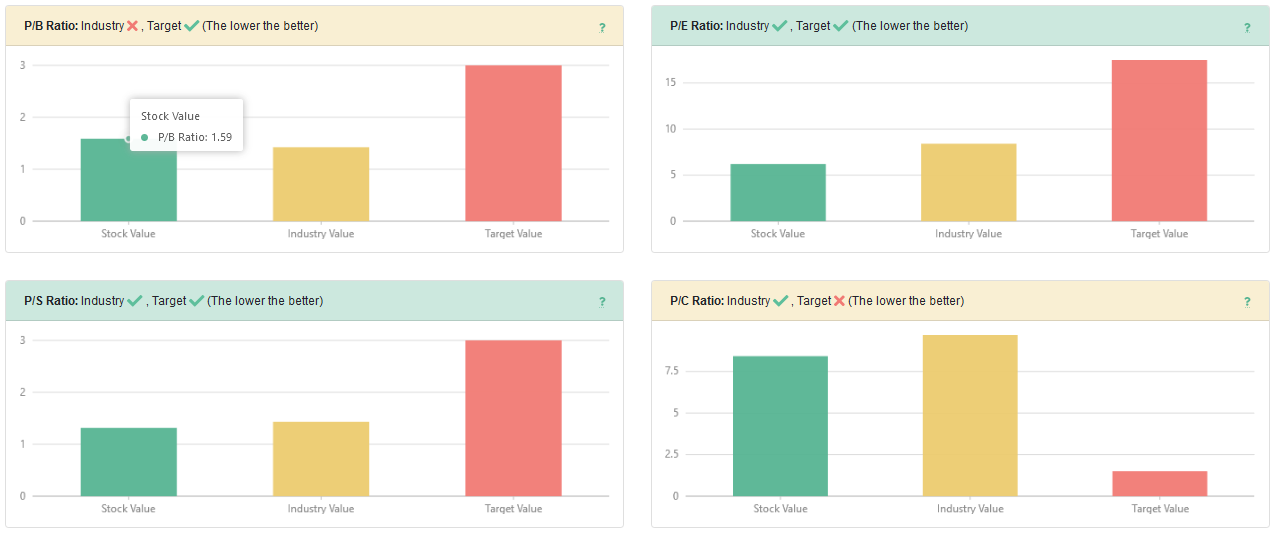 Fidelity has P/S ratio of 1.3 vs 1.4 of industry and P/E ratio of 6.2 vs industry ratio of 8.4. It has a net profit margin of 17%. It has current revenues of $13.7 billion and net profits of $2.3 billion. Assuming a 20% growth in revenue next year and calculating profit accordingly, we get revenue of $16.4 billion and profit of $2.8 billion in the coming year.
The growth rate is conservative as the industry future is bright and title insurance is bound to pick up especially as real estate picks up. In insurance, larger companies tend to attract more customers due to inherent stability, liquidity and confidence of claim settlement. Using the new revenue and profit, we can calculate the future share price of Fidelity using industry average P/S & P/E multiples to be between $80-$81 per share. The current share price is around $48 at the time of writing which makes it an excellent investment. (Disclaimer: This is not an investment recommendation and is intended to be an example of the methodology that is commonly used in share valuation. Investors are recommended to consult their investment advisors before making investment decisions.)
Conclusion:
At fairvalue-calculator.com, we are not here to sell you anything. We just want to be the Doc to your Marty and prep you for your adventures into the future. Join our premium membership and gain access to hundreds of tools and thousands of stocks, whose future, you can now hold in your hands. We look forward to having you as our premium member as we guide you in driving the DeLorean into a wealthy and comfortable future.