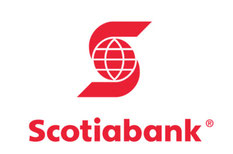 Banks are the backbone of any economy, developed or emerging. If the economy is a car then manufacturing will be its engine and banking systems the fuel. When the pandemic put a hard brake on the vehicle, it was feared that the backbone of the economy must be affected. After all, trade had collapsed, liquidity dried up, risk of defaults had gone up and new credit was next to impossible to extend looking at the unpredictability of events to unfold.
One of the worst affected regions was Latin America and portions of South America and USA. Aside from the initial health shock, the economies were affected by a drop in commodity prices and export volumes, decline in domestic demand, drop in tourism & unprecedented capital outflows. Lots of small and mid-size companies shut down due to lack of capital and the banks operating in the region were looking at significant bad debt.
One bank however bucked the trend and continued to display robust earnings. Now that recovery has begun especially in Latin America where the bank operates, it is now poised to capture a large market share and the results have begun to display the same. The Bank of Nova Scotia also known as Scotiabank is a Canadian Multinational banking and financial services company headquartered in Toronto with its business interests spread around the world but focused primarily in the Americas.
Its core markets include Canada, Mexico, Peru, Chile, Colombia, Caribbean and Uruguay with business operations across USA, UK, Australia and parts of Europe and Asia.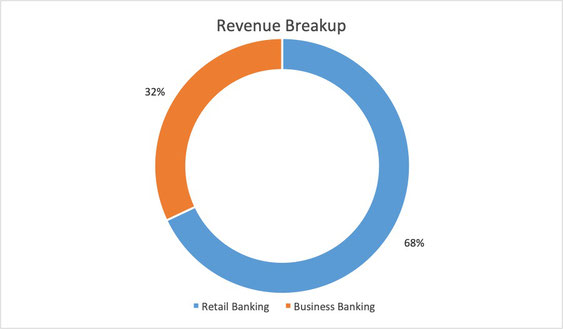 It is a retail oriented bank with 68% of revenue in 2020 derived from Retail. This retail orientation might have been the saving grace for the bank during the pandemic when businesses failed and a decent chunk in business provides them with the experience to capture that market segment as it begins recovery.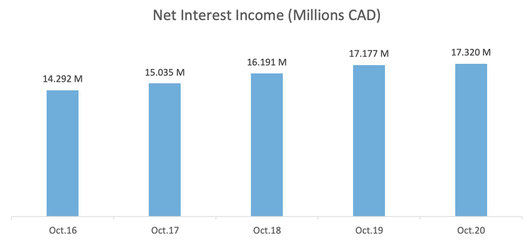 Revenues have been continuously increasing, even during the pandemic albeit at a reduced rate.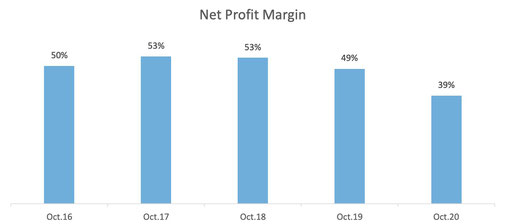 The margins however are bouncing back as the latest quarterly numbers show.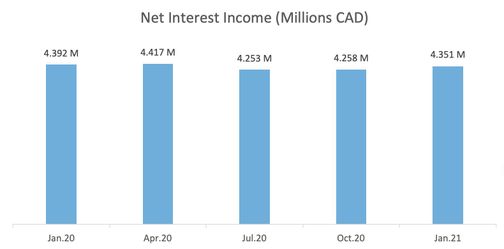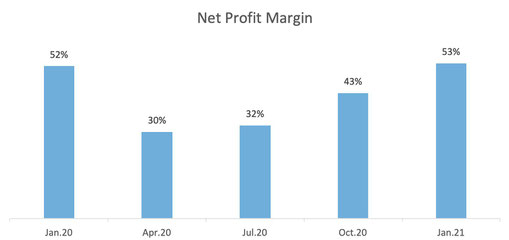 In fact, the company outperformed all analyst expectations in the last quarter ended January 21 when its wealth management unit did well and most importantly, it had to set aside lower than expected funds for bad loans. The future is bright for Scotiabank as its core markets are poised to do well following recovery from the pandemic.
The GDP forecasts and economic conditions of their core markets i.e. Canada, Mexico, Peru, Chile and Colombia and comparison with Pacific Alliance countries highlights the robustness of the markets they operate in automatically ensuring robustness of their business and earnings. Here are some of the forecasts.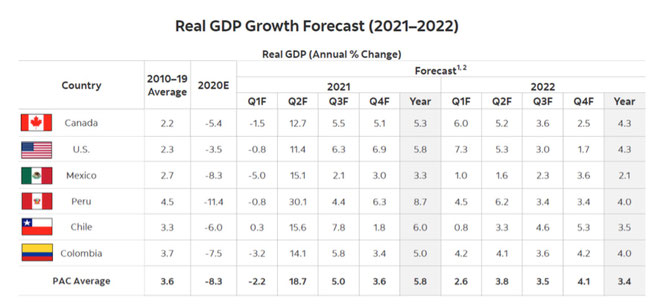 Valuations paint a rosy picture for the company and its prospects. An unprecedented and unforeseen economy has ensured that the stock price has not priced in such a rapid recovery and while the stock may have appreciated by 50% since October 2020, there is still a lot of room to grow.
The biggest advantage going for Scotiabank is the dividend it pays. It has a dividend yield of 4.55% (Source: Fairvalue-calculator.com). It began paying dividend since its inception in 1833 and has paid a dividend without fail every year. Over the last decade it has begun paying out dividends every quarter growing them on a regular interval as can be seen below.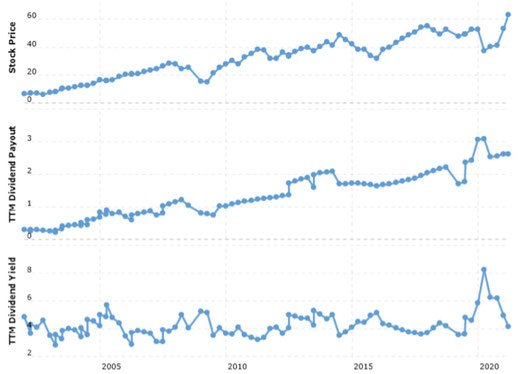 Its earnings are pandemic proof as was visible during the pandemic and this robustness translates in a steady dividend income ensuring that investors who wish to generate a steady and reliable income from dividends can trust Scotiabank to help them meet that goal. Even at its current price, the dividend yield is highly attractive and with centuries of dividend history, reliability is a certainty.
Considering the regular frequency of dividends as well as the predictable linear growth, one can estimate the value of the company using Dividend discount model. Scotiabank's weighted average cost of capital as of 2021 stands at 13.5%. It had paid out a dividend of $0.31 per share in Dec of 2001 and a dividend of $2.62 per share in January of 2021.
This is an annualized growth of 11.3%. Assuming the next year dividend at 2.91 (11.3% growth over $2.62) we get a fair value of the stock at $130.25, much above the current stock price. It is also quite cheap when observed through the lens of conventional metrics as well as relative strength parameters of the Fairvalue-calculator tools. The stock is trading at 20% discount to the P/E ratio and with economies recovering, a rerating of the P/E is on the cards for the company as well as the whole industry.
---
---
Human beings tend to love linearity and we project everything in a linear fashion. The added effect of recency bias ensures that we compound a short term problem into a permanent problem. The pandemic was no different as everybody around the world began to imagine an apocalyptic scenario for something that can be resolved fairly and safely with proper measures (provided they are followed with discipline) and prevented with a vaccine.
While the world economy has begun to recover, the recovery can be accelerated only by the fuel in the form of credit provided by the banks. Latin American countries were one of the worst hit and will require a lot more capital and credit leading to an amazing opportunity for players that survived there. Scotiabank has the opportunity to capture market share and assume a leadership position leading to an excellent dividend play investment with the potential of growth.
---
With the premium tools of the Fair Value Calculator method, you can call up such analyzes for more than 30,000 stocks within seconds. All information on this page comes from the premium tool of the Fair Value Calculator. To be able to access the Premium Tools, you must have a Premium Membership:
---