Diabetes is often known as "The Silent Killer". It is a persistent metabolic disorder characterized by high levels of sugar in the blood, sometimes to dangerous levels if kept unchecked.
It causes a host of issues from inconveniences like increased thirst and urination to life threatening cardiovascular conditions. Infections heal slowly and wounds often turn gangrenous. Such is the severity of this disease and its affliction that the United Nations in its 2007 General Assembly has categorized it as a serious threat and marked 14 November as World Diabetes Day to promote awareness and pursue multilateral efforts to improve health and provide access to treatment.
There are two types of Diabetes: Type 1 and Type 2. Type 1 is a serious condition where the body's immune system destroys insulin cells. No insulin is produced and external insulin is required to be taken regularly to manage it. This is common amongst individuals below the age of 20, Type 2 diabetes is a condition where the body is producing insulin but either the quantity secreted is insufficient or body has become resistant to it.
Type 2 diabetes is the most common condition around the world and is a direct consequence of improper lifestyle and physical inactivity. Around 463 million people are estimated to be suffering from diabetes as of 2019. The number is expected to increase by 25% in 2030 and 51% in 2045.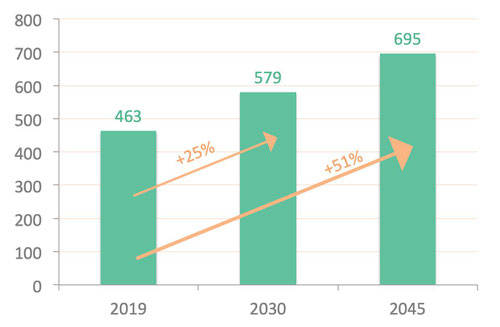 Obesity has been linked directly to diabetes and while plaguing developed nations more than third world countries, diabetes nonetheless pervades the whole world irrespective of the country one belongs to. The increasing intensity of diabetes can be indirectly measured via the sugar substitute market. Patients suffering from diabetes tend to use sugar substitutes instead of sugar which provides the same taste but without introducing glucose to the bloodstream. The sugar substitutes market is valued at 16.5 billion USD in 2020 and is projected to reach USD 20.6 billion by 2025.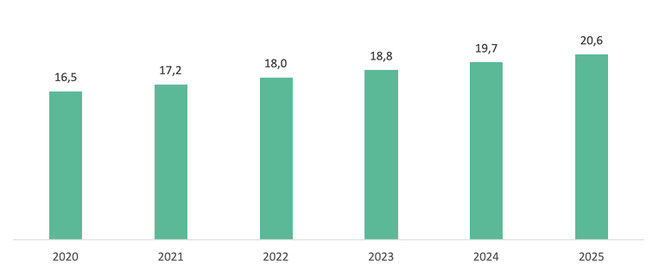 Sugar substitutes and a healthy lifestyle are well and good for managing diabetes but it still requires treatment to maintain quality of life. The COVID-19 pandemic which severely affected individuals with comorbidities, had diabetes patients amongst its worst affected. People realized that managing diet was good but treatment was not an exception but extremely important. An existing and large market suddenly opened up and came into the limelight: Pharmaceuticals.
It is a lucrative market for companies producing drugs and medicines for diabetes and obesity management and one such company that has identified this opportunity and has captured market share, attaining the status of industry leader in diabetes is now available as a lucrative investment : Novo Nordisk Novo Nordisk is a Danish multinational pharmaceutical company headquartered in Denmark with production and research facilities in 80 countries and territories.
It had an annual revenue of 126 billion Danish Krone (DKK) and a net profit of 42 billion DKK. It has strong margins with EBIT margin at 43% and net profit margin at 33%. That is excellent, but what makes it impressive is that it has a 50% global market share in GLP-1 which helps reduce blood sugar levels and 44% market share in insulin (Source: Company investor presentation).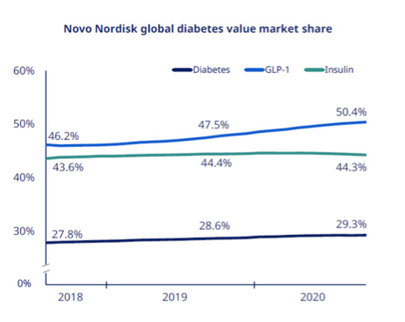 Such is the power of its presence that it continued to operate unabated even during the pandemic recording an increase in revenue while keeping all margins intact. While the increase was not in par with previous years, in a year marred by industry wide shutdowns, this is nothing short of an achievement.
It has maintained a steady growth in revenue keeping margins intact which means there has been no sort of compromise on pricing and in fact is an indicator of increasing demand as well as pricing.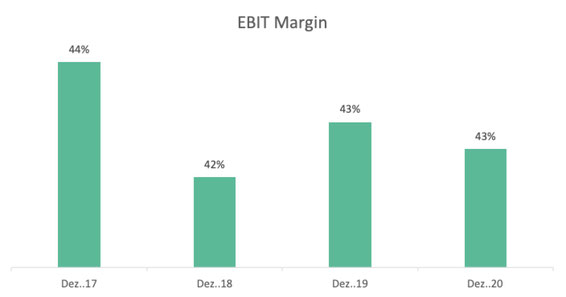 Its revenue while highly concentrated around the diabetes segment also targets other related segments like obesity as well: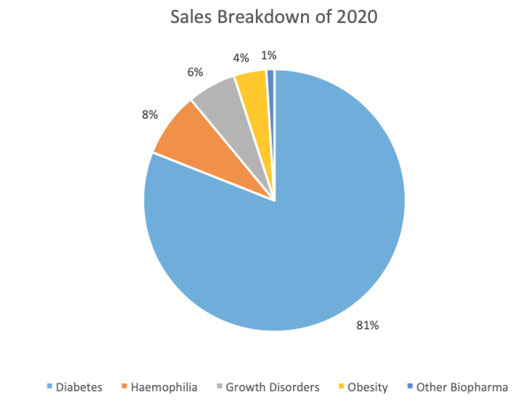 Novo Nordisk has strong patent protection in place which ensures its market leadership and serves as an effective moat around its business providing strong barriers to entry in its area of operations as well as protecting and maintaining margins.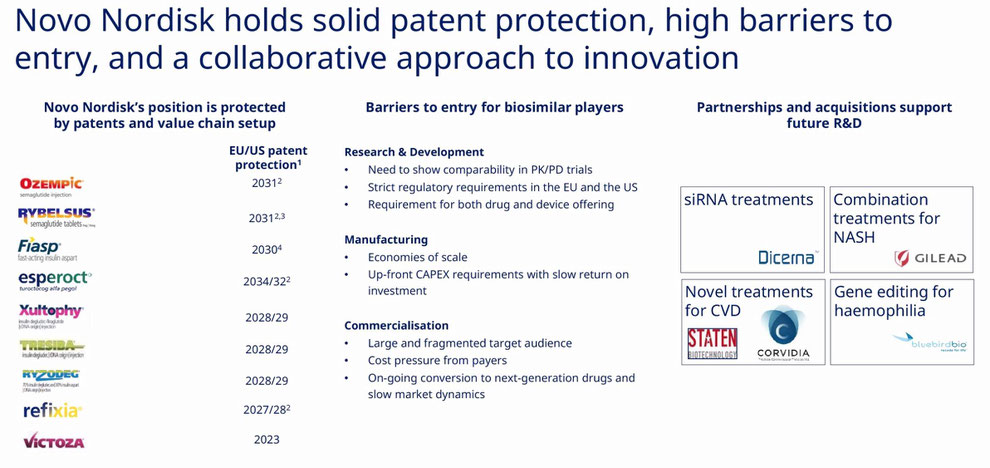 The company has very little long term debt and has just begun taking debt in order to setup new production facilities in USA and at the same time improve operational efficiency via leverage. A market leadership position with a large number of preexisting production facilities built during its 9 decades of existence have mitigated any need for debt. Nonetheless, renewed opportunities in the United States of America where 42.4% of its population suffers from obesity has allowed Novo Nordisk to setup production facilities in Carolina to cater to local demand (Source: Company Annual Report).
It however has experienced a sharp bump in short term debt but the same can be attributed to working capital needs in the face of the pandemic which may have interrupted short term cash flows.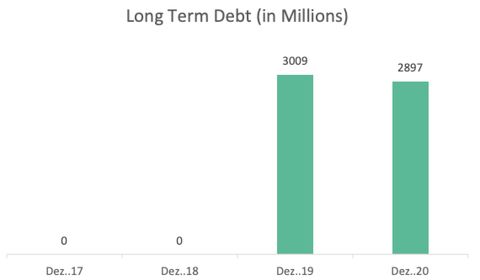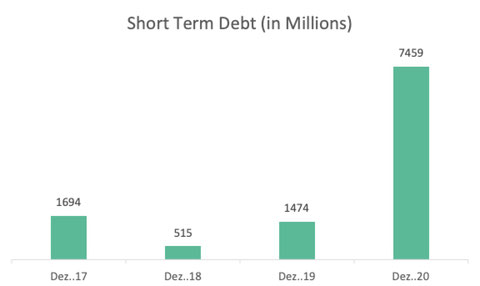 This spike in short term debt can be safely ignored in the context of a one off event but must be closely monitored going forward to see if the company pares it off once the situation improves. Even though this sharp rise might look huge, in context of the revenue and net profit as well as equity of the company, this amount is inconsequential.
As such, Novo Nordisk's indebtedness remains at a very comfortable 118%. When viewed from fair value point of view, Novo Nordisk checks all the boxes.
Here at fairvalue-calculator.com you can calculate various financial ratios and fair values using our free manual calculators. Alternatively, you can become our premium member and we shall do all the heavy lifting for you. Our premium dashboard provides over 15+ key financial ratios and fair values for over 35,000 stocks. Why don't you try out our premium membership and see for yourself?.
Novo Nordisk demonstrates industry leadership in all of our parameters.
Novo Nordisk trades quite below all the fair values that we have calculated using various different financial metric and formula. This allows for a significant margin of safety and a huge potential upside.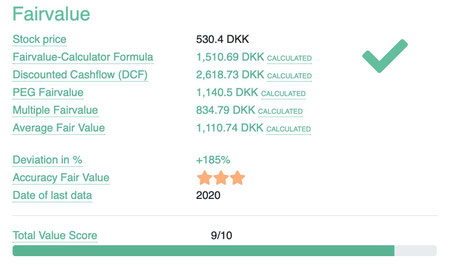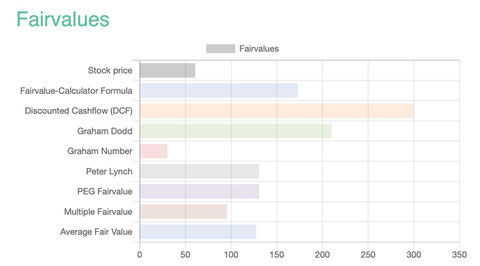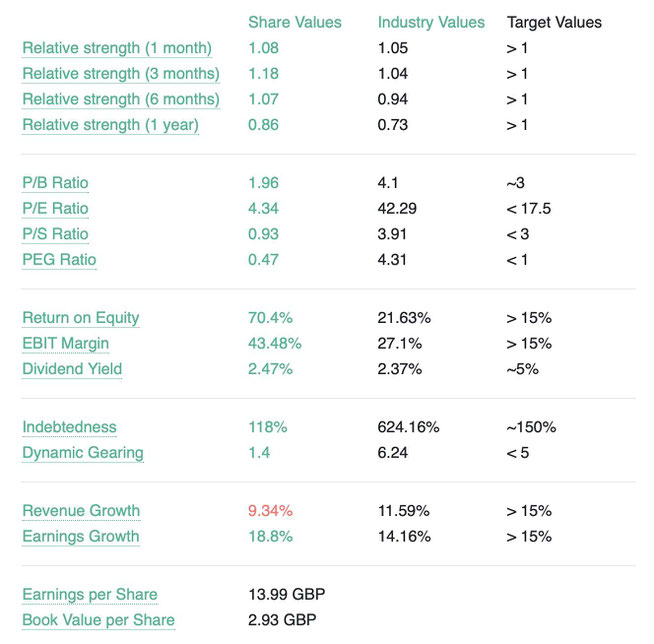 It is highly undervalued trading at only 10% of industry P/E ratio. Its market leadership is without any doubt and the trend of diabetes and obesity is on the rise despite increasing awareness. It has also been proved without doubt that diabetes is a hereditary disease which means that subsequent generations of those that already have diabetes will also have a high probability of contracting diabetes. It is of course not guaranteed but the potential market size is just going to increase from here as world population begins to boom.
Forget discounting growth, this gross undervaluation is not even considering the growing potential market for the company. In addition to long term patents which are still valid for a decade and continuous innovation as demonstrated by the company, this is a potential multi-bagger waiting for market to recognize it.
Additionally, the company has a strong cash flow which it is using to repurchase shares and reduce its equity capital. This allows existing shareholders to realize a decent return on their investments as well as increases the stake of those who hold on in a strong and profitable company.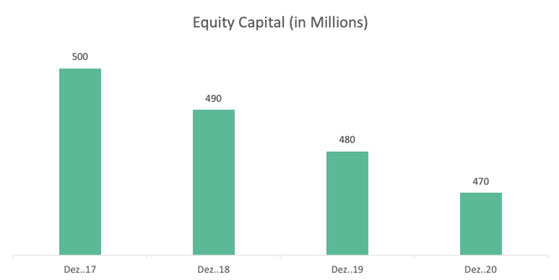 Novo Nordisk has a lot lined up for its future plans. Their investor presentation of 2020 highlighted their ambition to capture 33% of global diabetes market share from the current 29% as well as double their current sales from 2019. They have also committed to returning cash every year to their shareholders via share repurchase programs. On the ground, Novo has its eyes firmly set on the US market. It has tied up with Walmart to offer its first ever private label analog insulin (i.e. manufactured by Novo and sold under Walmart's name).
Walmart has claimed that it will revolutionize insulin access with deep discounts which would indicate access to a wider market. The tie up with Walmart also brings with it a retail penetration as well as access to other super stores like Target and Costco as well. Novo Nordisk has made a synergistic plan to now begin targeting obesity as a segment in addition to diabetes. I
ts weight management drug Wegovy (semaglutide) has gained FDA approval, the first weight management drug to do so since 2014. The drug is designated for chronic weight management and is directed towards individuals who have a hard time keeping their weight down. Their presence in USA along with local production facilities will improve profitability for them by eliminating currency risks which have impacted its margins to some extent.
Novo Nordisk has been in existence for over 9 decades and yet its ambition and enthusiasm for growth is nothing short of a budding start up. It has set practical goals for itself and has made plans to expand and diversify. Not content with maintaining market leadership (of which it has done a good job so far), it has planned to aggressively grow its market share. It is flush with cash, has little debt except for what is required for leverage and a potentially expanding market to tap into as it grows. The undervaluation is nothing short of criminal and will correct soon as life returns back to normal.