Membership on Fair Value Calculator gives you access to a database of more than 30,000 shares and countless stocks of high fair value, that are more worth than they cost. Before you buy the access to the database, you can see in the individual search whether the stock you
are interested in is in the database. If you simply want to put together a stock portfolio, the Portfolio Manager will recommend you many different stocks. In addition, as a member, you will receive email alerts when the fair values of the stocks in your watchlist change. 
After payment you will automatically receive access to your personal premium dashboard via email! Membership can be canceled at any time via your PayPal account. If you do not yet have a PayPal account, you can choose to pay by credit card and PayPal will guide you through the necessary steps.
You don't know PayPal yet? Here is an introduction to PayPal. PayPal works like its own account to which you can send money using all common payment methods. Once you have set up your PayPal account, you can make payments on the Internet from there and monitor them. You can also easily view and edit our subscription on PayPal. When you have created your account and added money to PayPal, you can choose the PayPal method in addition to the credit card method. If you do not have a PayPal account yet, you can also choose to pay by credit card and create a PayPal account during the ordering process.
Keep your PayPal account and access to the Fairvalue Calculator in a safe place.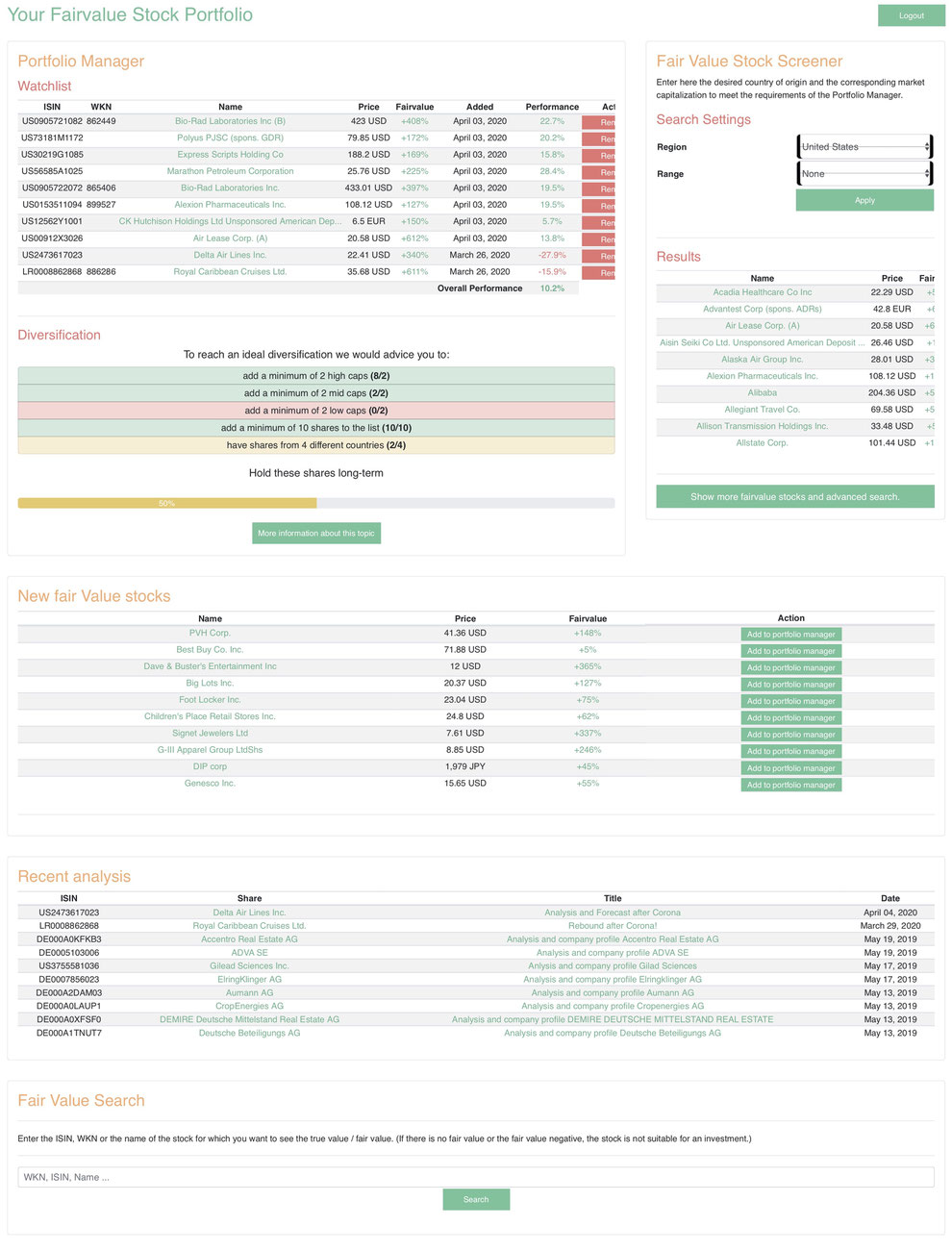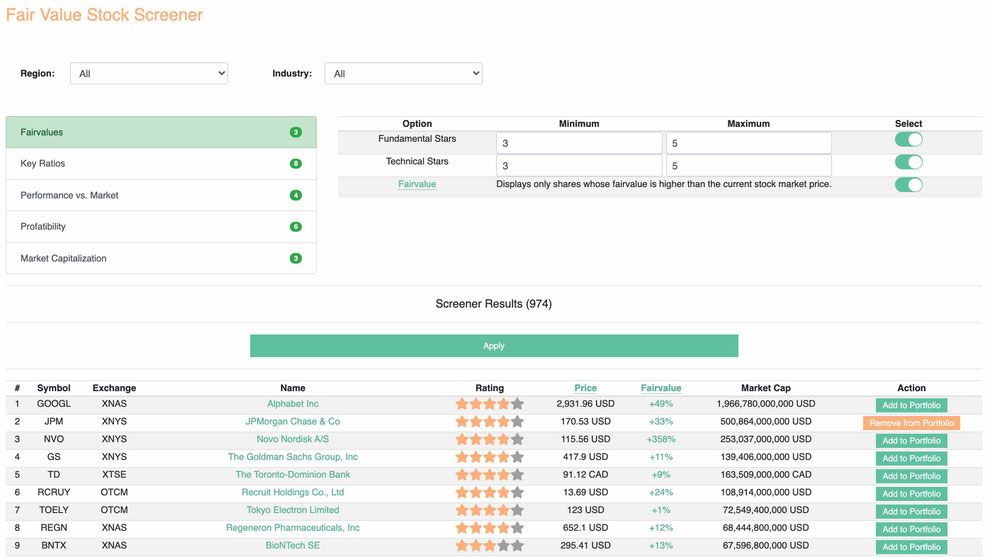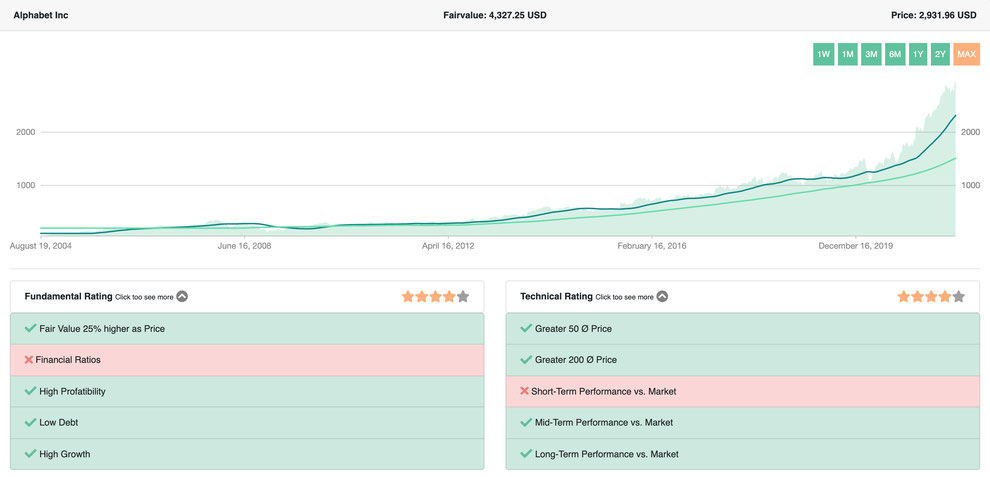 By accepting the terms and conditions and clicking on the desired payment method you will be redirected to PayPal. If you already have a PayPal account you can process the payment via your Paypal account. 
If you choose the credit card as your preferred method of payment, you can create a PayPal account in the same window. You can then check your subscription and cancel it at any time with your Paypal Account. After setting up the PayPal account, visit PayPal's website and log in with the details provided during payment. Here you can now check your PayPal payments to Fairvalue-Calculator.
After payment has been made, you will receive the access data for the premium area within a few minutes, in which you can find countless Fair Value shares with analyzes and use all Premium Tools, sent by email.
Access to the premium database with countless fair values worldwide! Here you will find thousands of undervalued stocks.
Stock screener for listing interesting stocks with different filter options. Watchlist and sample portfolio for creating your own stock list to keep an eye on the performance of the stocks.
"The membership can be terminated at any time via PayPal and there is no minimum contract duration!" 
Email notifications and alerts when fair values of stocks in the watchlist change.
Portfolio manager who supports you in creating a diversified equity portfolio and actively reduces risk.
Individual search for certain stocks and to check these stocks for their true value.
Stock sub-pages with lots of helpful information about the stock and other key figures that support you in the analysis.
Clear, understandable and simply explained, also suitable for interested beginners.
As member of the Premium Membership you will receive your individual affiliate link to show our tools to your family, friends or other interested people. You can also use this link if you are a blogger, influencer or owner of your own website. Just copy the affiliate link wherever you want and you will be rewarded. 
Insert the affiliate link on your website or send this link on to recommend new customers for our online tools. If a membership is purchased after your personal link has been clicked, you will receive EUR 2.50 per month per user, as long as their membership is active. You can request the amount to be paid out from 100 euros, if you have an active membership yourself.
The amount will be credited to the PayPal account that is linked to your own Fairvalue-Calculator Membership within a few days. You will find your individual Affiliate link within the premium dashboard once you have signed up for our Premium Membership.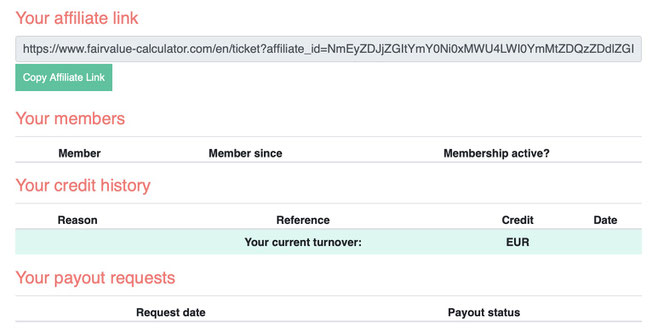 ---
Keep up the access code for the Fairvalue Calculator and your access to the created Paypal account. Both accesses are required to use the Premium Tools and to cancel the subscription to the Fairvalue Calculator if you no longer wish to use the services of Fairvalue Calculator.
---
Payment method of the membership fee is Paypal. By clicking on the button "Buy now access to premium tools" you will be redirected to Paypal. As a result, you can make the payment. With the completion of the payment you also pay the monthly fee of 7.90 Euro. You can cancel this fee anytime on Paypal by clicking on the payment and subsequently canceling the subscription. (Only with the monthly subscription you will receive email alerts if fair values in your watchlist change or an action in your portfolio is necessary.) The access is still valid for the current month even if you instantly cancel it. By purchasing Premium Tools, you will be able to view the Fair Value of Shares and other details. You do not really buy stocks, you buy the analysis of the intrinsic value of the stock.
---
When you create an account and join the membership, you create an account in which the dashboard is associated with that user. If you delete your account, all data and added stocks in the watchlist will be deleted and you will no longer be able to see the further development of the stocks in this account. A re-activation of the account is therefore not possible.
---
With the use of this membership you accept our terms of use you can find here. Please read through this terms before buy this membership or use this website. 
---