Do Investments in Value Stocks outperform markets?
In order to clarify the causality of the fair value calculator strategy, we have examined the study situation and did backtesting for value strategies here in this article. The central question is if a value strategy beats the "market".
---
#Studies & Test
In this article, we provide an overview of the study situation and analyze backtests on value strategies. In a comparison to the overall market, it should be proven that value strategies perform better than an investment in the overall market.
An objective overview of studies and in-house backtests.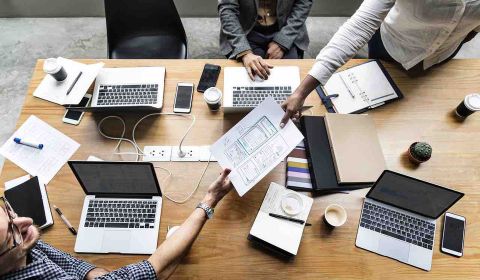 ---
Joseph Piotroski
Journal of Accounting Resaearch, Vol 38, 2000.
"Value Investing - The Use of Historical Financial Statement Information to seperate Winners from Losers.
Joseph Piotroski investigated value shares between 1976 and 1996. Based on fundamental analysis and an calculation of the true value of stocks based on historical data from the market reports of companies, the author assumes an annual outperformance of 7.5%.
---
FAMA
Journal of Accounting Resaearch, Vol 38, 2000. 
"Value Investing - The Use of Historical Financial Statement Information to seperate Winners from Losers.
As mentioned by Piotroski, FAMA 1998 shows that historical data from business reports are not priced in efficiently on the market.
(This means that there seems to be an inefficiency between real market data and stock market prices, and this inefficiency allows opportunities to be identified and exploited for a higher returns in the portfolio.)
---
Frankel and Lee
Frankel und Lee 1998.
"The strategy presented in Frankel & Lee requires investors to purchase stocks whose prices appear to be lagging fundamental values."
Over a 3-year period, Frankel and Lee showed that investing in undervalued stocks produced a higher return.
---
Our FAIR VALUE CALCULATOR - BACKTESTS
We have already examined several backtests and years of live testing. The results of the studies and backtests have been incorporated into the development of the Fair Value Calculator, providing (what we believe) a great system for outperforming the stock market.
Here, in addition to the study insights, we provide the results of our backtests. For the backtests theoretical portfolios were created in the past without knowing the further performance of the shares. Based on historical annual reports, we determined the past fair value of hundreds of stocks using the fair value calculator and compiled an undervalued portfolio in accordance with modern asset allocation.
Backtest 5 years: In the period from 2005 to 2010, our stock portfolio increased by 134%. The overall market has gained about 70% during this time. In this test, the Fair Value Depot would have performed almost twice as well as the overall market.
---
10 years of testing proofs our strategy
Backtest 10 years: In the period from 2005 to 2015, another portfolio with other Fair Value shares generated a return of 237%. Due to the financial crisis in 2008 (deliberately chosen to assess its functioning in crises), the market as a whole achieved a return of 30%. Here it becomes clear that a long investment horizon and a long holding of the shares leads to exceptionally high returns.
#10years
In this picture you can see the shares that were invested in 2005. Under EPS 05 you can see the earnings per share from the year 2005. From Growth the former revenue growth. Now we used the Fair Value Calculator to determine the true value of these 33 stocks and hold them for 10 years. The return per share after 10 years can be found in the Performance column.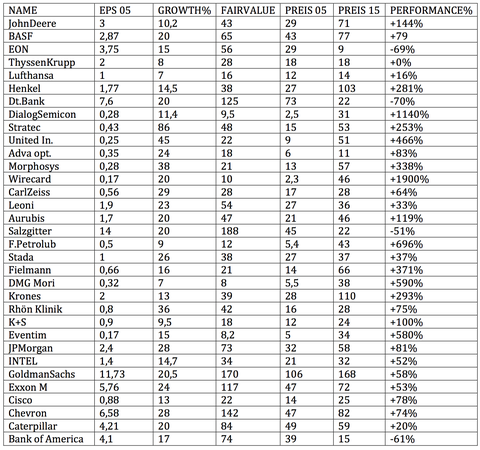 ---
Livetest to our strategy
Livetest: The livetest has been running since June 2016, further confirming the outperformance of our strategy. After the first two years, Fair Value shares also performed better than the market. With an increase in value of 39% and an average market performance of 29%, the depot with undervalued stocks performed also better than an investment in the overall market.   An average annual return of 15-25% can therefore be assumed.
#Livetest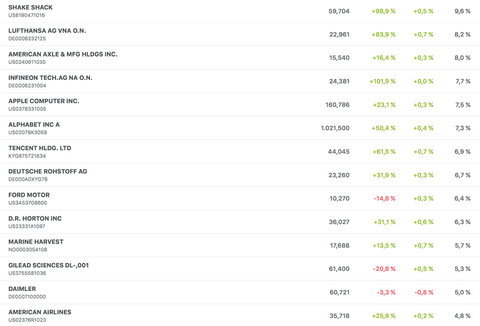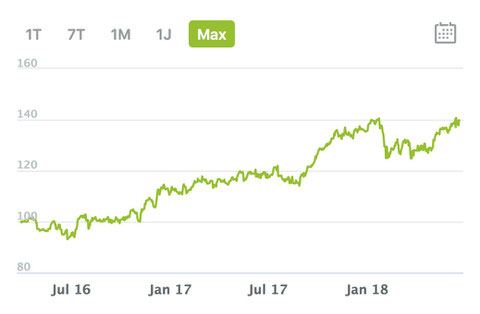 ---
ANALYST SELL / BUY RECOMMENDATIONS
According to studies, analysts tend to recommend only stocks that have shown good performance and rising prices in the past in their buy / sell recommendations. Since Value stocks are "overlooked" as they often perform poorly over a long period of time, the true value stocks often receive little attention for a long time.
Therefore, a long investment horizon is also recommended, as these sleeping giants must first be awakened and then show large price jumps in just a few days. If this share then attains greater media attention, they also move into the focus of investors and finds more investors.
---
Conclusio
Several studies show that the market is not efficient enough to price in all "good numbers" promptly into the stock market price of a stock. To get a deeper insight into the long list of studies, a search in Google Scholar is recommended. Here is a long list of studies confirming our strategy of the Fair Value Calculator.
A review of studies, the results of the backtests and live tests strongly suggest the excellent functioning of the Fair Value Calculator method. With annual returns between 15-25%, we consider the Fair Value Calculator method to be useful. First and foremost, because of its simplicity and easy-to-learn ability, the Fair Value Calculator method provides a useful strategy.
---
More Articles About Fair Value Stocks
---
About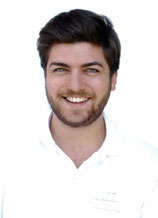 Dr. Peter Klein, BA
In my opinion, the performance of our backtests and the studies convince. With this article, I have objectively proven that the fair value strategy is an interesting investment strategy. I myself have been successfully using this method for 13 years. In our premium database, you can quickly and easily find stocks with high fair value and then put together your portfolio of stocks according to a correct asset allocation.
If you find this article interesting, I would be pleased about a short comment!
---