Micron Technology
US5951121038 - Semiconductor business brings good Q2 report with promising technology!
---
#GoodTimes
Micron Technology with ISIN US5951121038 and WKN 869020 is one of the world's largest semiconductor manufacturers. Memory for computers is at the heart of Micron's product range.
Micron Technology employs 30,400 people worldwide and is headquartered in Boise, Idaho, USA.
Through the brands "Crucial" and "Lexar" storage elements such as USB sticks are sold directly to the customer.
---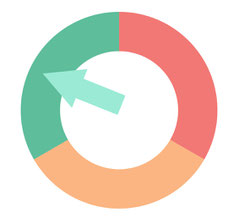 #BUY
The recommendation of the Fair Value Calculator editor is: Buy.
We believe in the technology and see potential in the fair value of Micron. A comparison of the current stock market price of € 48.76 and the calculated fair value of € 89 gives the stock air to move upwards an therefore Micron is a cheap stock.
---
HARD DISK AND MEMORY REPLACE CDS
If you look at the new laptops, you will quickly realize that more and more often a CD drive is missing. What counts are large hard drives to download programs directly online and store on the computer, which makes CDs not necessary anymore. The trend away from CDs to hard drives, boosts the business of Micron Technology.
On June 20, Micron Technology reported earnings per share of 2.71 Euro. This earnings per share and an average revenue growth of 35% makes the stock look ridiculously cheap. Here slumbers a real bargain.
New technologies such as autonomous driving, artificial intelligence, augmented reality and better graphics in computer games and entertainment media demand more powerful storage capacities.
---
HISTORICAL DEVELOPMENT OF STORAGE CAPACITIES IN MB
The following graphic shows the historical evolution of memory storage capacity. On the left side in red color you can see the megabytes that could be stored on a storage medium. Below the graphic you can see the corresponding timeline.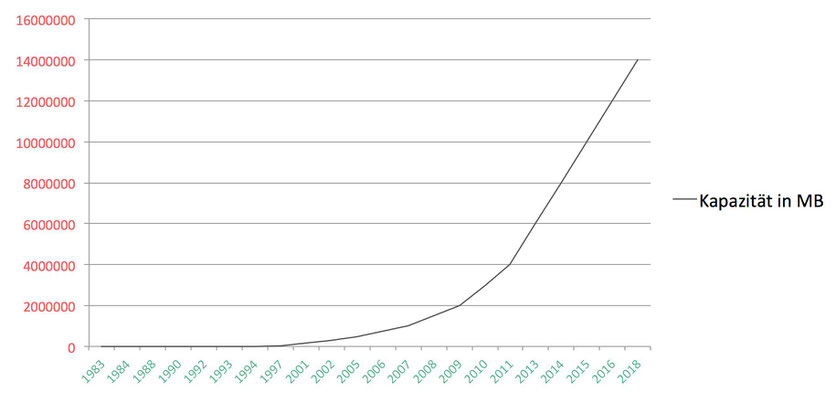 1983 10 megabytes of space were the highest possible storage capacity on the memory market. That's roughly equivalent to one high-resolution image. Today, we can already store over 1.6 million high-resolution images on a hard drive. An incredibly rapid growth, which is necessary due to the technological progress.
It should be noted that it was only from the year 1997 until 2012 that storage development grew exponentially. Since 2012, growth appears to be increasing linearly.
---
CEo Sanjay Mehrotra
Micron Technology benefits not only from increasing demand and good technology. Sanjay Mehrotra has been CEO of Micron Technology since August 2017. Mehrotra was the co-founder of Sandisk in 1988, also a semiconductor manufacturer, which was later sold to Western Digital. With more than 30 years of experience in the semiconductor industry, Mehrotra is a superstar of memory development.
In his time at Micron Technology, he was already driving Micron's cloud business. Analysts who analyzed the capabilities of the CEO Mehrotra come to the consensus that Mehrotra will further boost the share price.
---
SUMMARY
Increasing demand in the semiconductor industry and good technological approaches give Micron Technology a tailwind. Even the very competent CEO Mehrotra convinces. The high fair value makes the stock look cheap.
The company's risk remains the ongoing trade dispute between the US and China, as Micron operates manufacturing facilities in the US and Singapore. But even if the weather changes for Micron, $ 6 billion in long-term debt and $ 7 billion in cash makes Micron solvent.
---
FURTHER EXCITING TOPICS about stocks and stock market
---
About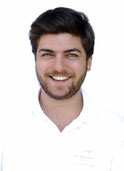 Dr. Peter Klein, BA
Micron Technology seems to me and our Fairvalue-calculator.com experts as a very interesting stock. Financials and the CEO are convincing across the board. The calculated fair value shows that this is a very cheap stock, which is why we believe this stock can be part of a Fair Value Calculator portfolio. 
---